Continuing Healthcare at The Ridge is open for tours and visitations.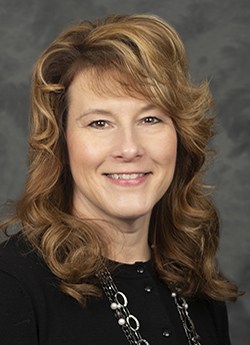 Melissa Boughner, LNHA
Administrator

Continuing Healthcare at The Ridge is committed to the total well-being of each resident. Our compassionate and dedicated staff ensures that our residents receive the highest quality of care in a warm, friendly environment designed not only to preserve quality of life but to embrace it.
Continuing Healthcare at The Ridge Amenities
* Private and shared accommodations
* Restaurant style dining and snacks available
* Salon and Barber services available
* Complimentary WiFi
* Diverse life enrichment programming
* Daily housekeeping and laundry services
Rehabilitation & Therapy Services
Each resident has specific challenges with which to cope following their rehabilitation stay. Continuing Healthcare at The Ridge meets these challenges through individualized care plans that include physical, occupational and speech therapy programs designed to help residents achieve their highest possible levels of independence and quality of life.
* Post orthopedic surgeries
* Joint replacement therapy
* Stroke protocols
* Post cardiac care
* Neurological disorders
* Loss of mobility or balance
* Outpatient therapy
Skilled Nursing
Our nurses are trained in caring for all skilled needs including tube feeding, specialized wound care, IV therapy and medication management.
* IV therapy including antibiotics
* CHF and pulmonary care protocols
* Total Parenteral Nutrition (TPN)
* Wound Care and Wound Vac Management
* Trach/Bi-Pap/CPAP Management
* Hospice and Palliative Care
* Respite Stays
* Pain Management
Long-Term Care
Continuing Healthcare at The Ridge offers long-term care for those individuals who are no longer able to safely live at home. In addition to 24-hour nursing care, Continuing Healthcare at The Ridge offers our long-term care residents a full schedule of social and recreational activities to keep them active and involved.
Assisted Living
Residents at the assisted living maintain their independence but have the security and peace of mind knowing that someone is there to assist them 24-hours a day.
Memory Care
Our memory care unit offers piece of mind in a secured environment for those who have dementia or a related diagnosis. We offer a diverse life enrichment program to help individuals maintain the highest level of independence as possible.
Behavioral Health
This behavior unit is designed to provide a secured environment while caring for individuals struggling with behavioral and psychological diagnosis. Our goal is to deliver care and services with patience and innovation through effective communication with residents, families and caregivers. Staff members receive additional training in communication and behavior management skills, as well as techniques to help provide a consistent approach to care. Our approach is thoughtful, consistent and centered around individual needs.
Additional On-Site Services
* Lab
* Dentist
* Podiatry
* Optometrist
* Audiologist
* Psychiatrist
* Psychologist
* Digital Imaging and Diagnostic Services


*ODA Certified

*Currently accepting individuals for assisted living waiver


Empowering You