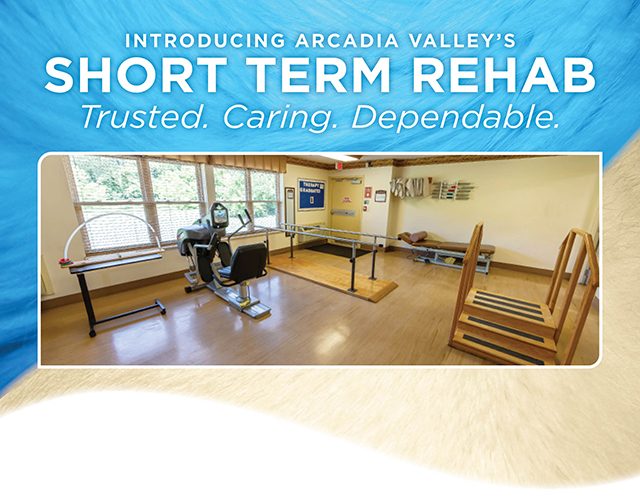 Introducing Arcadia Valley's Short Term Rehab
Individualized care plans designed to help each resident achieve their highest level of independence.
A pdf can be downloaded for more details.
---
Private Deluxe Memory Care Suites Available
Suites that feel like home. A pdf can be downloaded for more details.
---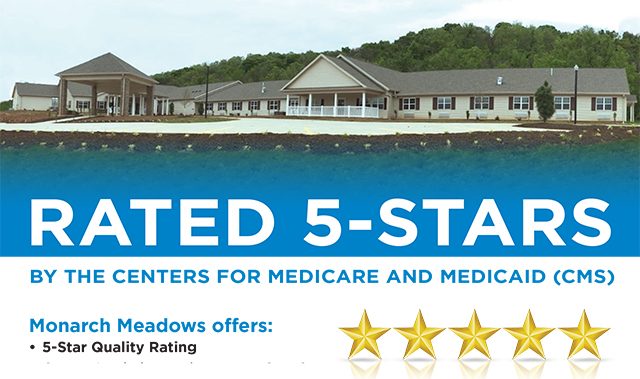 Monarch Meadows Rated 5-Stars by the Centers for Medicare and Medicaid
Monarch Meadows recently was awarded with a 5-Star Quality Rating from CMS.
A pdf can be downloaded for more details.
---
Announcing the Secured Behavior Unit at Continuing Healthcare at Cedar Hill!
This new unit is designed to offer a secure environment and specialized service while caring for individuals struggling with behavioral and psychological diagnosis.
A pdf can be downloaded for more details.
---
St. Patrick's Day Music Plays Outside for Seniors at Local Assisted Living Facility
Resident's at Victoria House Assisted Living got a nice treat for St. Patrick's Day from the Steel Valley Pipes and Drums group. The Coronavirus concerns has brought about changes to the facility that has halted visitors allowing entrance. So residents could listen to St. Patrick's Day music through open windows. It was a nice and thoughtful surprise. The video can be seen HERE.
---
Never to old: Couple in their 70s Exchange Vows
Lola Stackhouse and Herman Stacy, two residents at Muskingum Skilled Nursing & Rehabilitation met a year ago at this location and have been inseperable since. They exchanged wedding vows on Valentine's Day in front of family, friends, staff and other residents. Their beautiful day was captured by the local newspaper and can be viewed by clicking here. Congratulations to the happy couple!!
---
Continuing Healthcare at Adams Lane...Fun, Fun, Fun
Everyone had a great time at our Snowflake Ball!
---
Mail Carrier Day at Continuing Healthcare of Boardman
Tuesday, February 4th was Thank a Mail Carrier Day! In Honor of all the Carriers, UPS, Mail, ambulette and ambulance drivers and other delivery people. The residents made this refreshment station and hand wrote messages on all of the snacks.
---
Highlights of Frank Sinatra Tribute Night
CHS was the presenting sponsor at the Piggyback Foundation of Youngstown's Frank Sinatra Tribute Night. The night was wonderful--Great food, entertainment and prizes!
---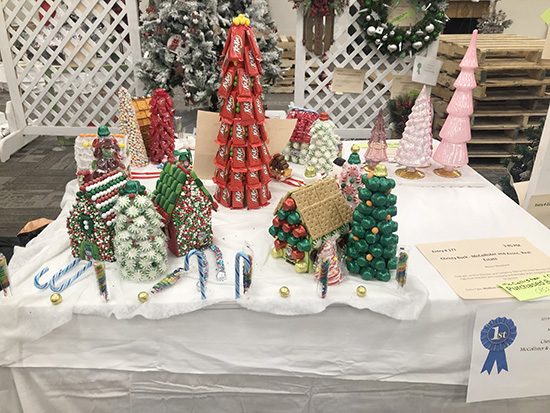 Festival of Trees 2019 Breaks Record
Zanesville, Ohio - Continuing Healthcare Solutions tree was in the large tree division that brought in some the highest volume of bids. Check out the video and article from WHIZnews.com
Continuing Healthcare Solutions at Willow Haven
Check out our new video of Continuing Healthcare at Willow Haven. See for yourself the compassion and understanding each resident receives. Give us a call or schedule a tour today!
---
Continuing Healthcare Solutions at the Canfield Fair
Come out and visit our booth at the Canfield Fair. We will have representatives there August 28-30. We will have water, misting stations and shaded area for sitting. We will also have free give aways like water bottles and bags. Make sure to sign up for our raffle give away basket. Any one can sign up. Stop by and talk with us and enjoy some relaxation time!
---
Highlights of National Skilled Nursing Care Week!
At Continuing Healthcare Solutions we celebrated with residents and staff the joy of National Skilled Nursing Care Week, May 13th - 17th.
Many facilities had events from Wheelchair Yoga to Relays and Ice Cream Socials. Check us out today!
---
---
Doris Schmidt Retires After 46 Years
After 46 years serving the long term care community, Doris Schmidt retired in May. Doris began her career as a nurses aide in 1973! Her first job paid $1.60 per hour and Doris thought she had struck it rich. She had, just not in the way she imagined.
 
Her first job provided no training or orientation to the job. She showed up and was told to take care of the elderly, so that is what she did. Over the next 46 years Doris transitioned from an aide to holding positions of Activity Director, Social Services, Business Office, Marketing and finally Admissions. Many times throughout her career Doris was approached by hospital systems to come work for them. Her family also encouraged her to make the move, but from day one Doris had found her passion in nursing homes. Through the decades, despite the position she held Doris was a shining spot in the lives of so many residents who became family.
 
Doris and her husband of 20 years, Bob, are looking forward to many adventures! Of course, there will still be the annual trip to Myrtle Beach, but they also plan to travel out west. Everyone at CHS wishes Doris the very best, as that is what she has given to us for four decades, the very best!
---
Maple Hills Donates Care Bags for Children Entering Foster Care
Maple Hills Skilled Nursing and Rehab donated 50 care bags to Synergy Family Foster Care which were filled with a variety of personal care items along with other items for children entering the foster care system who often have nothing with them.
Pictured is: Sylvia Perry and Ashley Pratt from Maple Hills presenting the bags to Katie Radford and Cindy Bentley from Synergy Family Foster Care.
---
Congratulations to both Continuing Healthcare of Niles and Victoria House for receiving a 2019 Bronze AHCA/NCAL National Quality Award!
As a Bronze award recipient from the American Health Care Association (AHCA) and National Center for Assisted Living (NCAL), you have demonstrated your intention to begin a rigorous quality improvement program.